Read here to learn more about the Quest for Democracy, an annual lobby day for California's formerly incarcerated people, and find out how you can join the fight!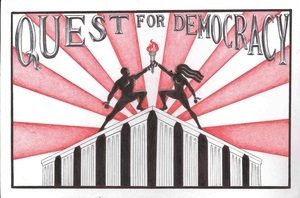 On April 26th in the darkest of night we will travel to Sacramento and wake up to the morning of a new day, literally and figuratively.
We will meet with legislatures, lobby our bills, and build community with organizers from all over the state.  We want you to be there, join in on lifting up the voices of our community and remembering those that cannot be there. but upon whose shoulders we stand.
The Five bills that have been chosen for the Quest for Democracy lobby day are:
SB124   Restrictions on the use of Juvenile Solitary Confinement
SB225    Elder Parole   (Apply to people that are 50 years old or older and who have served 15 years of their sentence
AB324     Lifts the Jury Duty exclusion of people that have been convicted of a felony
SB405   Reduce the number of people whos' licenses are suspended for Failures to Appear or pay fines
SB504   Sealing of juvenile records will be free
Other bills may be added…
Riverside and the Inland Empire are critical to Statewide Change….and we have seen the results of your civic engagement…..They Must Hear US. We must make them hear us.  We are a long way from Sacramento, and the Quest for Democracy Lobby Day provides a much needed platform for our voices.
The bus ride and meals are free. Car pools will be driving us to the LA Bus pick up point.  We will take a very comfortable bus ride with other community members that share our interest in justice.  There are 30 seats for the Inland Empire.  Can we fill them?  How many seats do you want?
Please email (vonyaq@hotmail.com) or call (
951-898-0862) to let me know how many seats you want….if we need more than 30 seats, the sooner we know the better.
There is still time to help out, either in the planning. volunteering, or financial support.   Please share this with your networks, and CLICK HERE to join All of Us or None RIverside.