The passage of Proposition 47 is a victory, but the work does not stop as we must make sure that the funds saved by reclassification of these low level crimes will actually go for the services intended and that everyone who qualifies under Prop 47 for reclassification knows what to do next.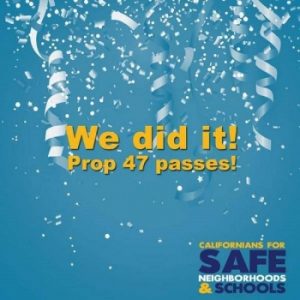 All of Us or None Riverside helped launch a new facebook page, Prop 47 Rising, that will keep people informed and updated on the implementation of Prop 47. The facebook page will also provide a space for community members to report what they are seeing and experiencing on the ground, and plan actions to ensure their voices are heard and listened to.
Help spread the word by: 1) Liking us onfacebook; 2) Signing our petition to stop jail expansion in Riverside County; and 3) sending targetted letters to the Riverside County Board of Supervisors against jail expansion.