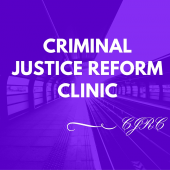 We are a non-profit organization established to create a blueprint for justice that is equitable for all.
Coax the rusted machinery of commutation back into motion
Correct acts of injustice within the criminal justice system
Channel the criminal justice system to work for all of us
Connect with us
About Us
The Criminal Justice Reform Clinic fills holes in the criminal justice system, offering a hands-on experience with criminal law, engage elected officials and the general public with information and training designed to enhance effective criminal justice public policy.
WHY WE BEGAN and NEED 'THE CLINIC'
In 2014, the former Governor of Maryland was invited to Arkansas by a group of dedicated Arkansas criminal justice advocates. We had noted his fresh approach to executive clemency while Governor and his being instrumental in developing the first Clemency and Pardons Clinic after leaving office. We were inspired by his presentaion Fostering a Sense of Fairness and Justice for People Seeking a Second Chance.
In 2015, we obtained our non-profit status as a charitable organization whereby we became more than a 'group of dedicated Arkansas criminal justice advocates'.
In 2016, we are ready to produce an Arkansas criminal justice system that works for us all. Right now, Arkansas has the fastest growing prison population in the country.
Now is the time, to reimagine and transform our criminal justice system. As Arkansans, we can do more to ensure justice is done for victims, defendants, families, and our communities. Fairness, accountability, and evidence-based practices should always be the foundation of our criminal justice system.