Facts
$2 billion for JOBS, not JAILS!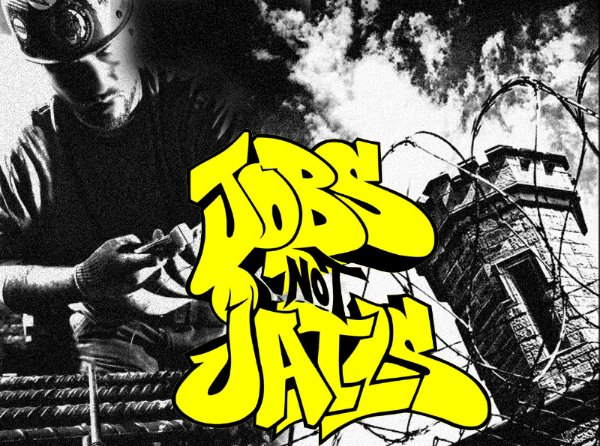 The Patrick Administration has estimated that, if current criminal justice policies are not changed dramatically, the Commonwealth of Massachusetts will have to spend $2 billion in the next seven years, to build 10,000 new prison units, as well as $150 million more each year to fill them.  Massachusetts already has one of the highest rates of incarceration in the world – on par with French Guiana and Kazakhstan.  There are so few opportunities, and so many barriers to successful re-entry, that most (>60%) of prisoners released from DYS, county jails, and prison recidivate within 3 years.
Meanwhile, we are sliding quickly away from a full-employment economy. Businesses are shedding entry-level and middle-class jobs at an alarming rate, as many functions such as check-out clerk and warehouse operator are automated. Massachusetts has lost 100,000 manufacturing jobs just in the last six years.
Other states – including New York, Washington and Texas – have overhauled their criminal justice systems using practices that are proven effective, and so reduced their prison populations that they have closed prisons, saving taxpayers billions of dollars.
Massachusetts can do the same, by ending practices that are proven ineffective, and implementing the best of what other states have already proven can work.  For example:
Ending mandatory minimum drug sentences;
Diversion of low-level drug offenders to treatment even before trial;
Eliminating counter-productive "collateral sanctions" such as an automatic driver's license suspension for drug offenses, and high fees for probation, parole, court costs, and telephone charges;
Reforming the systems of parole and probation;
Bail reform;
Restoring educational programs including vocational education as well as college-level courses in prisons and jails;
The Jobs NOT Jails Coalition is now 136 participating organizations-strong.  We just filed omnibus legislation for the reforms listed above as: Justice Reinvestment: An Act to Increase Neighborhood and Safety.  Please read more about it here and be sure to visit our Jobs NOT Jails campaign site on Nation Inside
Ending Collateral Sanctions at the RMV: A person re-building his or her life after incarceration or probation faces many challenges, not least of which is the mountain of fees levied by the state. Monthly probation fees, parole fees, child support penalties and interest accrued while in jail, court fees and other costs can add up to tens of thousands of dollars. Under MGL Chapter 90, Sections 22(f) and 33, a person convicted of any drug- related offense loses his or her driving privileges for up to five years, has to pay a special reinstatement fee of at least $500, and generates multiple references to a drug offense on his or her driving record. This applies to people who were not in or near a vehicle when charged – and it applies to people who never even had a license or driven before.
Each year, roughly 7,000 people lose their driving privileges because of this law, including people who never had a license. Only 2,500 people a year ever succeed in paying the fee and getting their license back. Although the $1.1 million annually raised by the fee is only a tiny fraction of state revenues, it represents a brutal sacrifice from the people who pay it. What's more, every year about 700 people who lost their license under this law are later convicted of driving without a license, thus re-entering the revolving door of prison.
A fact sheet about the bill is available here.
Policy Papers and Documents