Interview with Marinella Blake 1/13/14: Why is Jobs NOT Jails Important to me?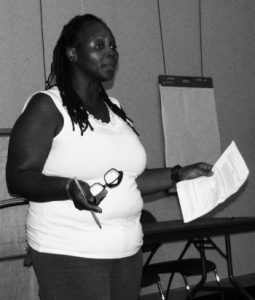 Marinella Blake just got back from a week-long  professional community organizer training session with PICO in Atlanta.  She is about to start her Emma Tenayuca Community Organizer Apprenticeship with EPOCA, funded in part by the Boston Women's Fund.  Marinella will step down from her position on the Board of Directors as Vice-president when she joins our staff temporarily for six months as an Apprentice.
"Why is Jobs NOT Jails Important to me?….Because if we don't change the reforms the way job security looks like – the generations after ours will suffer worse than currently.  If we don't change these policies that don't work (criminal justice policies) and continue at our current recidivism rate , our country will really suffer.  The American Dream will never be fulfilled for most of us if we aren't allowed any opportunities.
Having a CORI (criminal record), I feel the need for it even more.  Before I sealed my CORI with EPOCA, it was difficult to obtain the work I was qualified for because of my CORI.  Now the doors have opened already, I don't think I would have been able to take the Red Cross training in phlebotomy that I just completed and CAN training certificates because you will be working with a vulnerable population.
I had open CORIs for twenty years.  I was told not to seal it so people could see who you are and you could talk it out in an interview.  After the Patriot Act, that changed completely – it made it much more difficult to find a job that would sustain me and my family.
I want to stress how important it is that the dominant narrative we have come to believe in has to be transformed.  For example, the belief that once you have a CORI nothing's going to change – you're stuck in this system – depending on social services, social security, food stamps – when all you want is a decent job, to be a productive member of society, pay my bills and taxes and enjoy some hopes for the future.  We have to make it so everyone is treated equally, equally paid and valued equally.
I'm starting the Apprenticeship next week.  I'm excited to be a part of the team.  I'm excited about the learning and that I'll be surrounded by strong leaders.  I'm excited by the movement – after the PICO training last week I learned that in a lot of states they're fighting for the same issues we are working on: minimum wage, immigration reform, jobs not jails and ending mass incarceration.
One of my PICO peers, Together Colorado, is doing some exciting and similar work.  It was really empowering to talk with them.  It made me see how we need to change laws, change policies, change the pyramid of power across the nation.  I really want to be a part of shaking things up and breaking down that pyramid.  This is a whole USA issue – not just Massachusetts.  I'm psyched.  And I'm aware some of these things might not happen in the near future, but we're getting the ball rolling, getting things started – that's important.  It's not just about us –  I'm really adamant about changing the future for our children and the generations to follow.