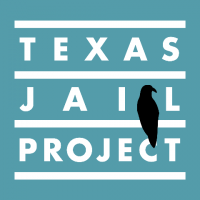 Texas Jail Project is collecting people's stories about their experiences while incarcerated in a Texas county jail, before their case is decided—when they are pretrial. We urge former inmates, family members, or friends to send us their stories.
Visit us atwww.jailhousestories.org
Follow us at www.facebook.com/texasjailproject
Connect with us
Facts
As of November 2014, just over 67,000 people were incarcerated in county jails throughout Texas. Of those, 39,843 – or 59.3% — were being held pretrial. (1) Many inmates who are arrested may have the resources to quickly post bond in order to be released, but other people who are not able to do so may spend days, months, or even years waiting for their case to be settled.
Unfortunately national data shows that the longer an individual stays in jail pretrial, the more likely it is that they will experience negative outcomes in their case. For example, defendants who are detained for the entirety of their pretrial wait are over four times more likely to be sentenced to jail and over three times more likely to be sentenced to prison than defendants who are released at some point pending trial. (2)  On average, detained defendants receive jail sentences which are nearly three times as long and prison sentences that are more than twice as long as inmates who are released pretrial. (3) And additionally, low-risk defendants who are held 8-14 days during pretrial are 51 percent more likely to commit another crime within two years after completion of their cases than equivalent defendants held no more than 24 hours. (4)
________________________________________________________________________
1. Texas Commission on Jail Standards Abbreviated Population Report for 11/1/2014. <http://www.tcjs.state.tx.us/docs/AbbreRptCurrent.pdf>
2. Lowenkamp, C., VanNostrand, M., and Holsinger, A. Investigating the Impact of Pretrial Detention on Sentencing Outcomes, November 2013. The Laura and John Arnold Foundation. <http://www.pretrial.org/wpfb-file/investigating-the-impact-of-pretrial-detention-on-sentencing-outcomes-ljaf-2013-pdf/>
3. Ibid.
4. Lowenkamp, C., VanNostrand, M., and Holsinger, A. The Hidden Costs of Pretrial Detention, November 2013. The Laura and John Arnold Foundation. <http://www.pretrial.org/wpfb-file/the-hidden-costs-of-pretrial-detention-ljaf-2013-pdf/>
Policy Papers and Documents