Lots to do this coming March!
March Mini-calendar of Events Related to Mass Incarceration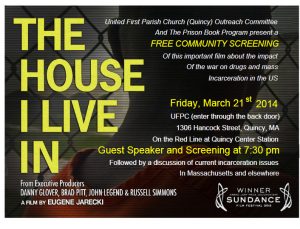 March 8 (Saturday), Wakefield: Stop Mass Incarceration Workshop
If you missed our Jobs Not Jails organizing workshop in Arlington, you have another chance to hear powerful speakers from EPOCA, prepare for the rally on the Boston Common on April 26, and help build the movement against mass incarceration. 10:30 a.m. to 2:30 p.m., with an optional showing of "The House I Live In" at 9:30 am. First Parish Unitarian Universalist of Wakefield, 326 Main Street, Wakefield. Lunch $10 or as affordable. Please pre-register at EndingMassIncarceration@gmail.com or 978-886-2734. More info at http://www.uumassaction.org/uuma/jobs-not-jails-workshop-wakefield-march…
March 13 (Thursday), Cambridge: Forum with Gubernatorial Candidates on Criminal Justice
Harvard professor Charles Ogletree and the Honorable Nancy Gertner will moderate a panel with gubernatorial candidates about the future of criminal justice reforms in Massachusetts. A big turnout is important, so please go if you can and bring people with you. 6-8 p.m. Harvard Law School, Wasserstein Hall 2036, Millstein East. Please register here: http://www.charleshamiltonhouston.org/2014/03/governorforum/
March 19 (Wednesday), Cambridge: "The Grey Area" film
"The Grey Area" is an intimate look at women's issues in the criminal justice system and the unique experience of studying feminism behind bars. Through a series of captivating class discussions, headed by students from Grinnell College, a small group of female inmates at a maximum security women's prison in Mitchellville, Iowa, share their diverse experiences with motherhood, drug addiction, sexual abuse, murder, and life in prison . The women, along with their teachers, explore the ambiguous 'grey area' that is often invisible within the prison walls, and delve into issues of gender, sexuality, class and race. (Excerpt from http://thegreyareamovie.com/about ) 7 p.m. in University Hall Amphitheatre (2-150), Porter Campus, Lesley University, 1815 Massachusetts Ave, Cambridge. Walk-ins welcome – free and open to the Public. To RSVP, please contact Beth Chambers at echambe5@lesley.edu
March 21 (Friday), Quincy UU church: "The House I Live In" with speakers afterwards
March 26 (Wednesday), Bridgewater UU church: "The House I Live In" with Jack Cole of Law Enforcement Against Prohibition speaking afterwards
"The House I Live In" is an excellent and important documentary film about the failure of the war on drugs. Details are below. If you live south of Boston and haven't seen it yet, go!
March 27 (Thursday), Cambridge: "The Last Graduation: The Rise and Fall of College Programs in Prison" film
Partakers supports Massachusetts prison education by coordinating teams of volunteers and is sponsoring a screening and discussion of this powerful documentary. 7-9 p.m., Harvard Divinity School, Sperry Room in Andover Hall, 45 Francis Ave. Cambridge, MA 02138.