Speaker of the House warns of a federal takeover of the system. Oklahoma is "one lawsuit away" from a federal takeover of its prison system, Speaker of the House Jeff Hickman said Friday."As of today, your state prisons are at 116 percent capacity and are staffed at about 60 percent of where they should be," Hickman, R-Fairview, told the Tulsa Republican Club. "That's a crisis. "As Republicans, we talk a lot about not wanting the federal government coming in and telling us how to do our business," he said. "If we don't address this ourselves … we are one lawsuit away, one federal judge, one federal court away from someone other than the people you elect deciding how you operate corrections."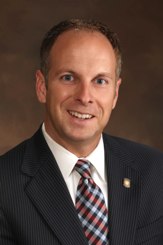 By RANDY KREHBIEL World Staff Writer | Posted 2 days ago
Oklahoma is "one lawsuit away" from a federal takeover of its prison system, Speaker of the House Jeff Hickman said Friday.
"As of today, your state prisons are at 116 percent capacity and are staffed at about 60 percent of where they should be," Hickman, R-Fairview, told the Tulsa Republican Club. "That's a crisis.
"As Republicans, we talk a lot about not wanting the federal government coming in and telling us how to do our business," he said. "If we don't address this ourselves … we are one lawsuit away, one federal judge, one federal court away from someone other than the people you elect deciding how you operate corrections."
Earlier this week, Gov. Mary Fallin formed a committee that includes Hickman and other legislative leaders tasked with finding ways to reduce incarceration. This was after embracing, then backing away from, a justice reform initiative of former House Speaker Kris Steele.
The problem, like most facing the Legislature in the coming session, is that it must be solved with little or no additional money.
"We have to continue to lock up the people we are afraid of, who are a threat to our communities," Hickman said. "To have the dollars to do that, we're probably not going to be able to afford to continue locking up everybody we're mad at."
Hickman said state revenue for the budget year that begins July 1 should not be much different than the current year, and he disputed claims that at least $300 million will have to be cut.
The disagreement is whether money taken from revolving funds and other sources last session will be available again this year. In some cases, the use of those funds was ruled illegal and had to be returned.
Hickman said balances in the state's revolving funds total $1 billion, some of which should be available in the budget-making process. As measured by the number of operating days available, Oklahoma's state government financial reserves have shrunk by more than 25 percent over the past two years, according to The Pew Charitable Trusts, but remain above the national average.
Hickman defended the GOP's tax policies, saying reductions in the income tax rate could be easily offset by eliminating some of the state's $1.7 billion in tax preferences.
"It's tough to govern," Hickman said, "but hopefully we're doing it better than it would have been done otherwise."
Randy Krehbiel 918-581-8365
randy.krehbiel@tulsaworld.com
CLICK here for link