Only one week from today The End Mass Incarceration Rally on March 11th is fast approaching. We need your help getting the word out and the State Capitol full of voices demanding an end to unjust criminal justice polices. The weather is suppose to be very nice. Bring a car load of folks with you and verify who your Rep. & Senator are so you can talk to them.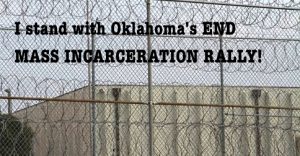 Please print out, send, post information about the rally on March 11. Tell your family and friends we need them to come and stand in solidarity with Oklahoma CURE!
For those who cant't make it, post a picture or leave a message at 1877-410-4863 sharing why you care about these issues.
Let's pack the house!