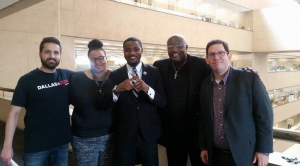 On Wednesday, June 1st, the Dallas City Council will brief on a policy that has the potential to fundamentally reshape employment in Dallas for people with criminal backgrounds. This policy is known as Ban the Box or Fair Chance hiring.
There will be no vote taken this Wednesday, but it is imperative that people from the community be present to show their support.
If you have a story about how difficult it is to find work while living with a record, now is your chance. This is a great time and space to share, and make an impact for yourself and the many others like you.
Date: Wednesday, June 1
Time: 9:00am
Location:
Dallas City Hall
1500 Marilla Street
Dallas, Tx 75201
Room: 6ES
*Notes on attending and/or speaking before City Council*
-City Council briefings start at 9am
-Ban the Box is not first on the agenda (however, the mayor may call a matter out of order, at his discretion)
-IMPORTANT: If you wish to speak this Wednesday, you must sign up by calling the city Secretary's Office (214.670.3738) before 5pm on Tuesday, May 31