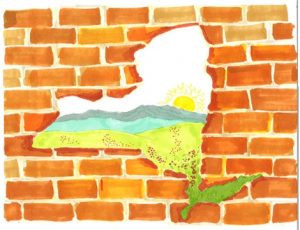 We are a coalition of over one hundred organizations and countless individuals from across New York state working together to pass the Safe and Fair Evaluations (SAFE) Parole Act (S.1728 / A.2930). Every day, we face the pain of watching our loved ones repeatedly denied parole despite their best efforts to demonstrate their readiness to come home and be a positive influence on their community. All too often, our loved ones are only denied parole due to the nature of the crime – a factor that  can never be changed. Join our coalition!
Organizations that have Endorsed the SAFE Parole Act:
Advocacy Campaign for Trans Prisoners
Albany County Central Federation of Labor, Albany
Albany Friends Meeting, Albany
Amnesty International—Ithaca Chapter
Back to Basics Outreach Ministry, Buffalo
Broken Chains Prison Ministry Outreach, Staten Island
Buffalo Local Action Committee (BLAC)
Capital Area Against Mass Incarceration, Albany
Center for Community Alternatives, Syracuse
Center for Law and Justice, Albany
Center for NuLeadership on Urban Solutions, NYC
Central NY Save the Kids, Syracuse
Chaverim Organization, Sullivan C.F.
Chelsea Reform Democratic Club, NYC
Citizen Action of New York State
Citizens Against Recidivism, NYC
Coalition for Parole Restoration, NYC
College and Community Fellowship, NYC
Community Service Society, NYC
The Correctional Association of New York
District Council 37, AFSCME, NYC
End the New Jim Crow Action Network (Poughkeepsie, Newburg, Kingston, Woodstock)
Episcopal Peace Fellowship of the Ithaca Area
Erie County Prisoners' Rights Coalition
Exodus Transitional Community, NYC
Exponents Harm Reduction Coalition, NYC
Free Mumia Abu-Jamal Coalition, NYC
Greenhope Service for Women, NYC
Harlem Restoration Project
Hispanics In Progress, Attica CF
HourChildren, Long Island City
Hudson Link for Higher Education in Prison, Ossining
In Your Face, NYC
Inside Out Art, NYC
Ithaca Area Prisoner Justice Network
Jews for Racial and Economic Justice, New York City
Jewish Voice for Peace, Albany Chapter
Judicial Process Commission, Rochester
Justice Committee of Sisters of St. Joseph, Albany Province
Latinos Unidos, Elmira C.F.
Latinos United Organization, Sullivan C.F.
Logan Jaycees, Auburn Correctional Facility Chapter NYS Jaycees
Men of All Colors Acting Together, NYC
Morningside Monthly Meeting of the Religious Society of Friends, NYC
Nassau Inmate Advocacy Group, Hempstead
National Action Network Second Chance Committee, New York
National Alliance on Mental Illness-NYS Criminal Justice Committee
Neighborhood Defender Service of Harlem
New York City Campaign to Free Russell Maroon Shoatz, NYC
New York City Jericho Movement
New York Quarterly Meeting of the Religious Society of Friends (Quakers)
New York State Association of Criminal Defense Lawyers
New York State Council of Churches
New York State Defenders Association
New York State Defenders' Justice Fund
New York State Prisoner Justice Network
New York State Working Families Organization
New York Task Force on Political Prisoners
Otisville Correctional Facility Lifers and Long Termers Organization
Parole Preparation Project, PPP
Peaceprints of Western New York, Buffalo
Prison Families Anonymous, Central Islip
Prison Policy Initiative, Massachusetts
Prisoners Are People Too!, Buffalo
Prisoners' Legal Services of New York
Project Care, Sullivan Correctional Facility
Release Aging People in Prison, NYC
Riverside Church Prison Ministry, NYC
Saint Andrews Episcopal Church Against Mass Incarceration, Albany
The Sentencing Project, Washington, DC
SO Hopeful of New York
Social Justice Center of Albany
Social Responsibility Council of the First Unitarian Universalist Society of Albany
Solidarity of the Capital District
The Staten Island Executive Meeting of the Religious Society of Friends
The Think Outside the Cell Foundation, Inc.
Veterans Organization, Sullivan Correctional Facility
Westchester Martin Luther King, Jr. Institute for Nonviolence
Western New York Peace Center, Buffalo
WORTH Women on the Rise Telling HerStory