Participate with State Representative Carol Ammons and Build Programs, Not Jails as we examine and discuss the future of Criminal Justice in Champaign County.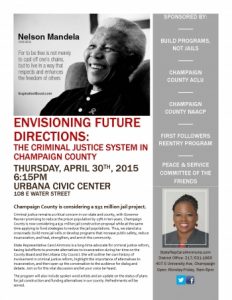 Build Programs Not Jails is proud to host an important public policy forum on "Envisioning Future Directions for the Criminal Justice System in Champaign County." The event will take place on Thursday, April 30 at 6:15 p.m. at the Urbana Civic Center, with keynote address by State Representative Carol Ammons. Carol is a long-time advocate for criminal justice reform, having led struggles to promote alternatives to incarceration during her tenure on the County Board and the Urbana City Council.
Criminal justice remains a critical concern in our state and county, with Governor Rauner promising to reduce the prison population by 25% in ten years. Champaign County is now considering a $32 million jail construction proposal while at the same time applying for grants to fund strategies to reduce the jail populations. Thus, we stand at a crossroads: build more jail cells or develop programs that increase public safety, reduce incarceration, and heal, strengthen, and enrich the community. Carol will outline her own history of involvement in criminal justice reform, highlighting the importance of alternatives to incarceration, and then we will open up the conversation to the audience for dialog and debate. Join us for this vital discussion and let your voice be heard.
The program will also feature spoken word artists Klevah Knox,, T.R.U.T.H.  and a description of current activities around criminal justice reform in Champaign County.
Sponsored by: Build Programs Not Jails, First Followers, Champaign County ACLU, Champaign County NAACP and the Peace and Service Committee of the Friends.
Build Programs Not Jails is a community group that believes the county must change priorities to fund preventive services and programs that will keep people out of jail, including mental health services, substance abuse treatment, pretrial services, re-entry programs for people returning home from prison, youth job training, and measures to address the disproportionate number of African Americans and poor people in the jail population.  We believe that everyone in the county deserves to be treated with dignity