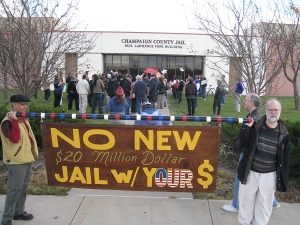 Build Programs, Not Jails continues our efforts to stop the county from spending millions on jail construction. We support the county funding programs that keep people out of jail and build strong and healthy communities. We currently have three working groups in our campaign:
1) racial justice-we press the county to take steps to reduce the excessive presence of African Amerians in the jail population and push for great equality throughout the county
2) mental health-we work with other groups to advocate for a community-based mental health center in our county-a place where the mentally ill can receive treatment. At present all too many people with mental health issues are incarcerated in our jail. This must end.
3) pre-trial services-we pressure for more mechanisms to keep people out of jail once they are arrested or come in contact with the system. We want to see: more people released without bail, lower bail, more citations instead of arrest and other mechanisms to keep those with minor offenses from spending weeks or months in jail.
If you are interested in our campaign, come and join us. We typically meet the second and fourth Thursdays of the month at 6:30 p.m. at the Independent Media Center, 202 S. Broadway, Urbana. We will not meet June 11.