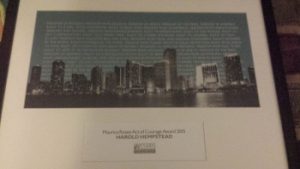 In 2012, Darren Rainey was murdered at Dade Correctional Institution in Miami, Florida. Harold Hempstead was an inmate orderly in Mr
. Rainey's unit and, putting his life literally on the line, brought the case to light by contacting The Miami Herald.  This started, in 2014, a Herald se
ries on abuse in Florida's prisons that continues to this day. On October 16 of this year, Harold was awarded the ACLU of Florida's Maurice Rosen Act of Courage Award.
As Harold remains incarcerated, it was accepted by his sister Windy, who labors tirelessly for for justice within Florida's prisons and for Harold's release. He has served 15 years of a 165 year (!!!) sentence for burglary.