Sixteen years ago Donald W. Lemons was a relatively new Richmond Circuit Court judge when he pushed for a new kind of court and served as its first judge. Today, after more than 300 people have progressed through the program, Virginia is beginning to embrace alternatives to incarceration.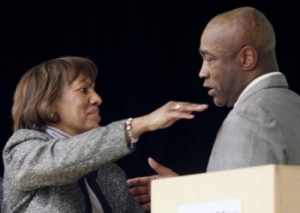 Virginia CURE has long advocated for alternatives to the "business as usual" approaches of our criminal justice system, which all too often destroyes lives and communities without serving to improve public safety.  In his recent article in the Richmond Times Dispatch, Frank Green explores some of the ways one Virginia program to create an alternative to imprisonment has made positive impact on the lives of those struggling with drug addiction and the broader community.
This past December, the Richmond Adult Treatment Court celebrated its fifteenth year.  Attending the ceremony was Donald W. Lemons, who began the program in 1997 as one of three pilot programs in the Commonwealth.  "Today there are 36 drug courts in Virginia — 22 adult courts, eight juvenile courts, two regional courts and four family courts — and more than 2,700 such courts across the country."
According to studies by the National Center for State Courts & the Virginia Joint Legislative Audit Review Committee, these alternatives to imprisonment for those facing drug charges save the tax payer $19,234 per person and have been shown to reduce recidivism by nearly 60%.
"Do we have setbacks and disappointments in the drug court program? You bet we do," Lemons said. "But there is plenty of evidence that it makes a difference in the lives of many participants and is a cost-effective alternative to traditional incarceration."
CLICK HERE to read the article.
There could still be improvements to these programs.  According to the article the Commonwealth's Attorney is for some reason held to be the arbiiter of public safety, able to bar admissions to these alternative programs:
Public safety, said Lemons, is a primary consideration of the program and no one can participate without the agreement of the commonwealth's attorney
Prosecutors have an enormous amount of power as it is, and that power is not always wielded in the best interest of the public, much less the true interests of justice.  It should be the place of the judge to judge who is suitable for rehabilitative programming such as Drug Courts, not a prosecutor.