Some of our Public Officials believe that: Shipping Arkansas imprisoned citizens to out-of-state Private-4-Profit Prisons is a good idea… It is NOT! Shipping Arkansas citizens across state lines as a 'quick-fix' to prison overcrowding is an abhorrent practice of treating incarcerated men and women like commodities and our state's dangerous reliance on incarceration.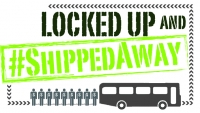 Say No To Shipping Arkansas Prisoners Out-of-State:TAKE ACTION!
Shipping incarcerated people across state lines into for-profit prisons rather than prioritizing reforms that would reduce the number of people behind bars exemplifies our state's dangerous reliance on incarceration, particularly incarceration for profit. This costly tactic, which fails to address the root causes of mass incarceration, severely diminishes prisoners' ties to family and community while private prison companies profit handsomely.
Proponents of this plan may characterize it as a temporary arrangement, but the experience of other states shows that these arrangements generally become permanent. The four states currently shipping prisoners out-of-state have been doing so for between seven and 18 years.
There are cost effective, common-sense alternatives to this idea that will keep Arkansas safe, represent a better use of taxpayer money, and avoid making things even more difficult for incarcerated Arkansas citizens and their families.