Less than a month before the U.S. Justice Department announced an investigation into sexual-abuse and harassment allegations at an Arkansas prison unit, Gov. Asa Hutchinson told the agency the state couldn't comply with the national Prison Rape Elimination Act.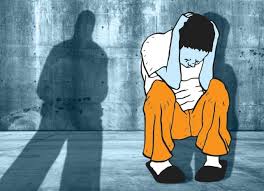 In a May 15, 2015, letter to the Justice Department, Hutchinson said the state could do neither for any of the state's detention agencies — the Arkansas Department of Correction, the Arkansas Department of Community Correction or the Youth Services Division.
Arkansas is one of only five states — the others are Alaska, Arizona, Idaho and Utah — that declined to offer certification or an assurance of compliance with the national Prison Rape Elimination Act.
Arkansas inmates are more than twice as likely to be the victims of a substantiated instance of sexual abuse or harassment than state and federal prisoners nationwide, according to a January 2014 report from the Bureau of Justice Statistics.
The report, which covered data from 2009-11, showed 11 substantiated cases in Arkansas' state and federal prisons, five of which concerned staff violations regarding inmates.
The McPherson Unit was specifically mentioned in a 2010 report from the Bureau of Justice Statistics titled "Sexual Victimization in Prisons and Jails Reported by Inmates, 2008-09." About one in 10 — or 10.3 percent — of the 224 McPherson Unit inmates who responded to the survey reported being sexually abused.
"Given the high statistics of sexual assault in Arkansas prisons, it is a bit of a head scratcher that the governor declined to participate in [the Prison Rape Elimination Act]," said Jesse Lerner-Kinglake, spokesman for Just Detention International, a nonprofit organization formed in 1980 in California that aims to stop sexual victimization of prisoners.
"The Prison Rape Elimination Act is a powerful and important set of regulations to help facilities do their job to protect their inmates. Arkansas should have submitted an assurance at least," Lerner-Kinglake said. "Why would any state opt out?"
The standards are binding on federal prisons but not for state facilities. States that do not comply could lose 5 percent of their Justice Department funding unless their governors certify that the same amount of money is being used to move toward compliance.
Prison-accreditation organizations also will be barred from federal grants unless they include similar anti-rape standards in their accreditation processes.