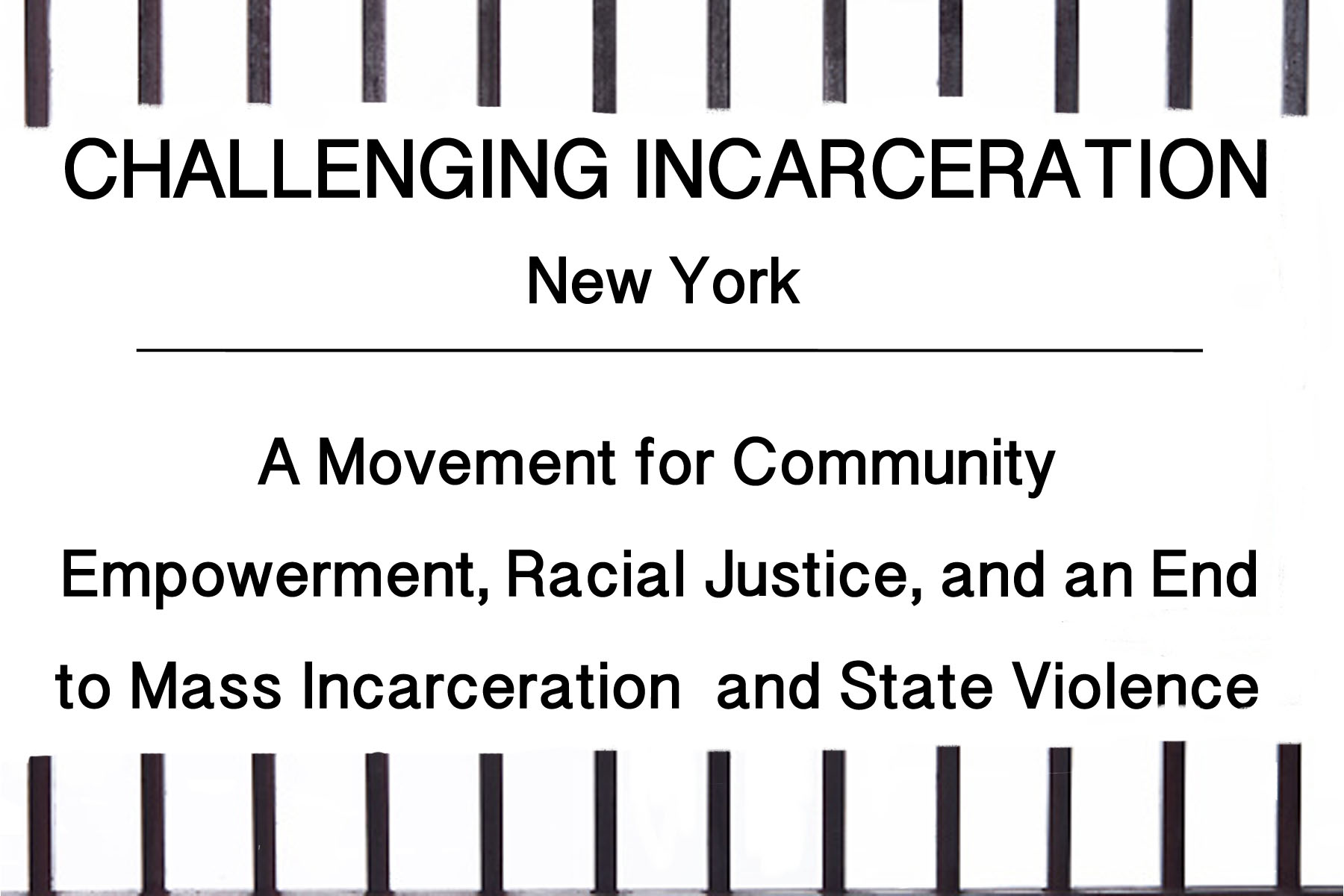 The Challenging Incarceration Mission


The system of incarceration in New York continues to destroy people, families, and
communities. We are a growing statewide, multi-campaign, multi-issue collective that aims to:

1) End Mass Incarceration;
2) Promote Community Empowerment;
3) End State Violence and Torture; and
4) End Structural Racism and all Intersectional Identity-Based Oppression in New York while protecting the rights of Black, Latino, Asian, Muslim, and Native people; women; immigrants; LGBTI people; impoverished and working class people; people with mental health needs; and all people of our great city and state.

EVENTS:

OCTOBER CHALLENGING INCARCERATION MEETING

October 21, 2017 –  12 to 2:00 PM. At this meeting, members of the coalition and community will have a monthly strategizing meeting. All are welcome. Feel free to bring snacks if you can!

625 West 140th street, 11th floor, New York, NY 10031
Connect with us
About Us
The system of incarceration in New York continues to destroy people, families, and communities. Rooted in the ongoing legacy of slavery, Jim Crow segregation, and ghettoization, New York's policing, jails, and prisons are at their core driven by racism, dehumanization, and otherization. Black people in particular are targeted for criminalization, policing, incarceration, and other state violence and torture. These systems also target women, queer, transgender, and gender non-conforming people; Latino, Native American, and Muslim people; people with mental health needs; poor people of all backgrounds; and other marginalized people. New York State must dismantle this racist and patriarchal incarceration system and reconstruct our State through caring and empowered communities with control over the decisions and resources that affect our own lives. We also commit ourselves to standing up for our Muslim and immigrant sisters and brothers, and all LGBTQ people, any time they come under attack. The platform of our collective represents our commitment to standing together as one community, fighting for human rights for all. As meaningful steps toward this necessary transformation, we call on New York legislators and the Governor, as well as the NYC Council and Mayor and all local governments to:
1) End Mass Incarceration
2) Promote Community Empowerment
3) End State Violence and Torture
4) End Structural Racism and all Intersectional Identity-Based Oppression.
We have created a comprehensive platform of policy changes that we believe New York must adopt to begin to achieve these goals, and have also created a shorter prioritized policy platform that outlines the key issues we will collectively push this year (both of which are available at the bottom of the "Facts" page). Over 60 different campaigns, coalitions, organizations, and groups have already endorsed the platform and are collectively working together to push for Governor Cuomo, the New York State Legislature, Mayor de Blasio, the NYC City Council, and localities across the state to adopt this platform of policy changes.  We encourage any and all people, groups, organizations, campaigns, or coalitions who want to see this different kind of New York State to join us!
The following organizations have endorsed the platform:
All Things Harlem 
Alliance of Families for Justice
Amawalk Quaker Meeting
Beacon Prison Action
Books Through Bars (NYC)
The Bronx Freedom Fund
Brooklyn Defenders Services
Campaign for Alternatives to Isolated Confinement (CAIC)
Campaign to End the New Jim Crow – NYC
Capital Area Against Mass Incarceration
Center for Community Alternatives
Center for Law and Justice                                                                                                                    Citizens Against Recidivism
Citizen Action of New York
Community Service Society                                                                                                             Correctional Association of New York
Criminal Justice Caucus at the Columbia School of Social Work
Drug Policy Alliance
Education From The Inside Out
FACES NY Inc. 
Freedom Socialist Party of NYC
Herstory Writers Workshop
Hope Lives for Lifers Project                                                                                                                    Hour Children, Inc.
Incarcerated Nation Corporation (INC)
Ithaca Prisoner Justice Network
Jails Action Coalition (JAC)
Jericho Movement
John Brown Lives!
Just LeadershipUSA (JLUSA)
Justice United in the Southern Tier (JUST)
Labor-Religion Coalition of NYS
Legal Aid Society
LIFE Progressive Services Group Inc.
Life to Life
National Action Network NYC Chapter – Second Chance Committee                                          National Alliance on Mental Illness (NAMI) – NYS (Criminal Justice)                                      National Association of Social Workers — NYC Chapter                                                              National Council for Incarcerated/Formerly Incarcerated Women & Girls
National Lawyers Guild-NYC Chapter
National Religious Campaign Against Torture (NRCAT)
Nation Inside
Network Support Services Inc.
New York State Prisoner Justice Network (NYSPJN)
On the Count, WBAI
Osborne Association
Parole Justice New York
Parole Preparation Project (PPP)
Peace and Justice Task Force of All Souls Unitarian Church
Photo Patch Foundation
Presbyterian Peace Fellowship
Release Aging People in Prison (RAPP)
Restorative Justice Initiative
Rochester Prison Education Project
The Raging Grannies
Showing Up for Racial Justice (SURJ) New York State
SURJ – Beacon
SURJ – Buffalo
SURJ – Capital District
SURJ – Hudson
SURJ – Ithaca
SURJ – North Country
SURJ – NYC                                                                                                                                                  SURJ – Westchester                                                                                                                                 The Sentencing Project
The Social Justice Committee of the Oratory Church of St. Boniface
Talk with Tenney on Blog Talk Radio                                                                                                      United Methodist Church New York Conference Board of Church and Society 
Urban Justice Center
Women & Justice Project
Youth Activists, Youth Allies Network (Ya-Ya Network)