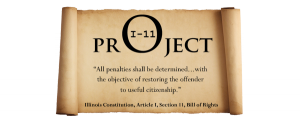 Support the "Elder Bill"
From Project I-11: You are cordially invited to the launch party of the campaign for HB 3668. We will also celebrating the 80th birthday of founder of Project I-11 and Steering Committee member, Bill Ryan. The play, "A Day at Stateville" will be presented.
When: Thursday March 6, 2014 from 5:00 PM to 8:00 PM
Where: The Home of Len Goodman, 3000 N. Lakeshore Dr., Chicago, IL 60657
Contact:  Bill Ryan Project I-11,
708-531-9923, 25.50bill@gmail.com
HB 3668 amends the Illinois Code of Corrections by establishing the Rehabilitated Prisoner Sentence Modification Program.  Under tight guidelines and standards, this program provides that a rehabilitated prisoner who is at least 50 years of age and who has served at least 25 consecutive years of imprisonment may become eligible to petition the Prisoner Review Board for parole.