Summary of pending HRDC comment to the EPA on the inclusion of prisoner populations in environmental justice demographic statistics and regulatory input for permitting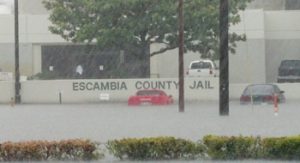 [UPDATE: Deadline on comments was extended to July 14, 2015. Here is the comment HRDC filed.]
Later this week, the Human Rights Defense Center's (HRDC) Prison Ecology Project will be providing input on the EPA's EJ 2020 Action Agenda Framework. While it is encouraging to see the EPA attempting to increase the effectiveness of protecting vulnerable communities that have been overburdened by industrial pollution, we also find that there is a significant component missing in the dialogue thus far: recognition of impacts on the vast number of prisoners and their families.
The need for something like EJ 2020 comes from the unfortunate reality that many of the environmental permit approvals that have taken place in recent decades, and continue today, fall into a category of Jim Crow-era policy. Few industrial sectors exemplify this more clearly than the prison industry.
If we can recognize the problem with forcing people to live in close proximity to toxic and hazardous operations, then why are we missing the people who are forced to live on the inside of such facilities?
Those unfamiliar with the conditions in America's prisons may balk at such allegations about the practice of incarceration, but the EPA cannot claim to be among this uninformed group, nor can theDepartment of Justice.
Since 1999, the Office of Enforcement, Compliance, and Environmental Justice (OECEJ) within EPA Region III office has conducted what they called their "prison initiative." Although this initiative has not been very active in conducting inspections since about 2011, over the course of a decade, EPA Region III conducted investigation after investigation of conditions in prisons which resulted in broad spectrum violations and enforcement actions. This initiative is well-documented through articles and press releases published online and in publications such as the National Environmental Enforcement Journal.
[Up until very recently, the activity of Region III's Prison Initiative was documented here, but it was removed. Some of the info previously there can now only be found here, on the Prison Ecology Project's site.]
In this time, reports also surface about rampant pollution and environmental health problems stemming from industrial facilities in federal prisons nationwide. According to reports, the Justice Department's Office of Inspector General pinpointed "numerous violations of health, safety and environmental laws, regulations and (Bureau of Prisons) policies."
Over the past six months HRDC's Prison Ecology Project has been conducting extensive research, public records requests, interviews and reviews of recent Environmental Impact Statements and Environmental Assessments to understand how environmental justice criteria has been applied to prisoner populations, given the overwhelming evidence that these people are disproportionately people of color and almost entirely low-income. We are disappointed to report that we have seen little to no information pointing to any intention of the EPA to recognize the population of people in prison, despite their being among the most vulnerable overburdened demographic of people in the country.
In an interview conducted in January 2015, an EPA Region III representative, Donna Heron, explained explicitly that environmental justice guidelines have not been applied to prisoners because the EPA uses statistics which don't take prisoners into account as local residents of the regions where they are locked up and forced into residing. Ironically, it is now common knowledge that prisoners are frequently counted for the purpose of gerrymandering voting districts.
We have also found that prison-related permitting has often attempted to claim a Finding of No Significant Impact (FONSI) in permitting, or worse, allege categorical exclusions keeping these plans off the radar of public input. We feel that anytime plans are being made that involve the literal warehousing of hundreds or thousands of low-income people (for which there are alternatives to incarcerating in the first place), that is a significant environmental justice impact.
In the next several days HRDC will submit a comment on this subject (to meet a June 15 deadline for public input on EJ 2020). Between now and that date, we are asking you as a member of the public to send a letter to the EPA stating that you agree with the HRDC position that prisoners populations should be looked at seriously in the EJ 2020 process.
Send your comments to Charles Lee at: ejstrategy@epa.gov
You can also send postal letters to:
Charles Lee
Deputy Associate Assistant Administrator for Environmental Justice
USEPA, Office of Environmental Justice (2201-A)
1200 Pennsylvania Avenue, NW
Washington, DC 20460
Below are some of the points that our comment will highlight and examples we will use to illustrate the need for recognizing prisoners in environmental justice policy.
Two case studies EIS / EA:
Letcher KY BOP – The BOP has proposed new maximum security facility in a rural Appalachian community which is economically depressed due to decades of extreme coal company exploitation. The area is known to have significant water pollution issues. In the Draft Environmental Impact Statement (EIS) released earlier this year, there is no mention of the impacts to future prisoners which will primarily be coming from low-income inner-city communities in the region.
Thomson Supermax – This controversial facility entails a proposal to re-purpose an already-constructed state prison into a federal prison with a focus on administrative segregation (solitary confinement). This proposal only triggered an Environmental Assessment (EA), in which EJ concerns were glossed over in a very superficial manor (since the location is extremely remote with a small local population. This permit also took no consideration of the potential prisoner populations which it is poised to be warehousing imminently.