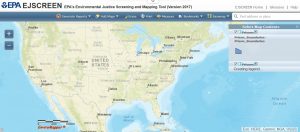 Two years ago, the concept of Prison Ecology was introduced to the world, building off the work of jailhouse lawyers, scholars and activists around the country. On many occasions spanning the last 4 decades of the prison boom (in which prisoner populations increased by 700%), prisoners and their advocates had noted environmental concerns in local battles surrounding prison operations as well as efforts to stop new prison construction.
In 2015, the Human Rights Defense Center decided that the problem was far beyond the scope of local campaigns, and initiated the Prison Ecology Project to address the issue on a national level.
This summer, the EPA's Office of Environmental Justice formally announced that it would be including the location of prisons in their updated
EJSCREEN mapping tool
.
More about EJSCREEN can be found here.
This is a big deal.
What it means is that we can now easily look at prisons in proximity to other sites of environmental concern has been done for us. And other agencies who rely on this map to review environmental permits will have no excuse to not do the same.
Using this new feature, we can create reports and release them for journalists write about, policy people to review and activists to organize around.
But what the EPA map will not have is a narrative to accompany the map which includes input from prisoners letters, news articles and public records requests about many of the listed facilities.
We are in the process of creating such a map, which would be populated with data collected by HRDC and FTP. The map could even link image files of powerful hand-written letters from prisoners that we have collected, to give a personal connection to the direct source.
Please get in touch if you have technical skills that can help develop this map and/or you can donate to support it getting out to the world: ptsolkas@prisonlegalnews.org or FightToxicPrisons@gmail.org