Pope Francis to visit prison with history of environmental problems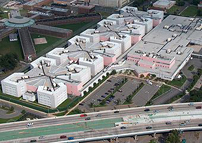 By now, much of the world knows that the Pope is going to visit a prison in Philly this weekend. On Sunday Sept. 27, he's set to meet with bishops attending the World Meeting of Families and inmates at the city's infamous Curran-Fromhold facility before a mass on the city's Benjamin Franklin Parkway.
While there has been some talk of the horrible condition in U.S. prisons and profiteering companies—including Corizon, Aramark, JPay, GTL, and Keefe Group—who specifically have contracts to provide services to Philly prisoners, few likely know that the Pope's prison visit was also one of the primary targets of the Environmental Protection Agency (EPA) 'Prison Initiative.'Back in the early 2000s the EPA found a host of violations from the prison complex which threatened the regional Delaware River watershed with toxic industrial pollution.
Officials from the federal EPA and the Pennsylvania Department of Environmental Protection inspected the Philadelphia Prison System (PPS) on June 7 and 8, 2001. As a result of the inspection, the EPA cited Philadelphia for the following violations:
Failure to prepare a SPCC plan to prevent and minimize spills from the prison's heating oil storage tanks, which have a total capacity of 101,975 gallons. The prison is adjacent to Pennypack Creek, which flows into the Delaware River.
Failure to obtain a hazardous waste storage permit, failure to properly label hazardous waste containers, and storage of hazardous wastes in open containers.
Servicing CFC-containing air conditioning units without certified CFC-recovery equipment.
The Pope may not yet realize it yet, but his visit to this prison comes at a unique time where the intersection of incarceration and the environment is beginning to get explored more deeply than ever before. While the issues of both mass incarceration and global ecology have risen to be among the top priorities on the agenda of grassroots social change activists nationwide, looking at the relationship between these two seemingly disparate issues has also become more common over the past several months.
The prison/ecology connection is not a new phenomenon—sadly, prisons have been documented causing pollution and health problems for several decades. But it's an intersection that's coming to represent the harsh reality of how the most vulnerable populations in our society bears the brunt of industrial pollution, from toxic contamination of air and water to plethora of climate impacts associated with carbon emissions.
Brentin Mock's Sept 25 article "How Global Warming Makes Overcrowded Prisons Even More Dangerous," from The Atlantic's CityLab blog, out it like this:
There is no population more captive to the effects of global warming than the incarcerated. And given the huge concentration of black and Latino prisoners in America, this is a classic case of environmental injustice, as these consequences fall widely on prisoners of color. A new study from Daniel W. E. Holt of the Columbia Law School's Sabin Center for Climate Change Lawexplains over 144 pages what the climate-change toll truly is on the two-million-plus bodies caged in our prison system.
The Prison Ecology Project has highlighted over a dozen other stark examples of the connection between incarceration and the environment, including: prisons built on or near toxic landfills, military bases and mining sites; prisons dumping massive quantities of sewage into waterways nationwide; prison-labor factories releasing heavy metal contamination into surrounding areas; and multiple cases where prisoners were stuck in cages as the water literally rose around them during floods.
More about Philly's prisons
The Curran-Fromhold Correctional Facility (CFCF) was built on the strange and violent legacy of the Philly's criminal justice system, which maintains its own local prison complex, the PPS. CFCF is named in honor of Warden Patrick N. Curran and Deputy Warden Robert F. Fromhold, who were murdered at Holmesburg Prison on May 31, 1973. They are the only PPS staff known to have been killed in the line of duty. Curran-Fromhold  opened in 1995 and is the largest PPS facility.
According to the PPS "Daily Census" report from its 6 prisons facilities, which all sit back-to-back on State Street, over 15,000 people are in the custody of PPS, half of which are juveniles.
Pennsylvania has a long, sordid history with prisons. On October 25, 1829, Eastern State Penitentiarybecame what was considered to be the world's first "true penitentiary." Eastern State's new system of incarceration, dubbed the "Pennsylvania system," supposedly allowed people an opportunity to correct themselves through the Quaker values of silence, solitude and reflection, with Jeremy Bentham's panopticon structure allowing a benevolent warden to oversee the prisoners and ensure their safety.
Now, almost 200 years later, we've watched the prison system nationwide turn into an industry based on warehouseing poor people and repressing social movements. Surely not what the Quakers had in mind, as even the Vatican now seems unimpressed.