The half-a-billion dollar cost of building this prison isn't its only problem; along with the over-incarceration that is tearing human communities apart, there is also a serious environmental toll.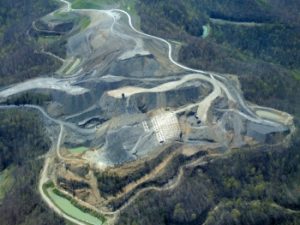 [UPDATE:  The Final EIS (FEIS) on the BOP's Letcher County prison proposal came out on July 31. This means that by August 31 they will have cleared the biggest hurdle in front of them and would likely move on swiftly to the local level permitting. The short time period between the draft (DEIS) and the FEIS indicates that they are anxious to blaze forward with this. It also means that they are cutting corners and making mistakes to do so. You can view the full 800+ page document here (prepared by PR giant, Cardno). You can send a comment to the BOP using this link. Even if you sent one for the Draft EIS in March, please send one again for this round.]
by Panagioti Tsolkas / PrisonEcology.org
Since the time of initial public hearings in 2013, the Bureau of Prisons' plan for a new maximum security prison in Kentucky has not seen a headline story outside of the rural southern Appalachian region where it has be proposed. This is unfortunate, as it is far from a local issue. The plethora of problems associated with mass incarceration in this country has become a policy issue that is being grappled with nationwide. At half-a-billion dollars in federal tax money—with an estimated $200 million just for excavation and grading on the mountainous site— the estimated construction costs alone should be sending up red flags across the country.
But the half-a-billion dollar cost of building this prison isn't its only problem; along with the over-incarceration that is tearing human communities apart, there is also a very serious environmental toll for this project. Either of the sites proposed by the BOP poses a threat to 71 species of plants and animals which are listed as endangered, threatened or of a special concern. Among those is the famously imperiled Indiana bat.
On July 30, 2015, in an seldom seen alliance, the Center for Biological Diversity, The Center for Biological Diversity, a national conservation organization with more than 900,000 members, andHuman Rights Defense Center, a group with over 25 years in prisoner rights advocacy, joined up to send letters urging the Kentucky Department for Environmental Protection and Department of Fish and Wildlife to oppose this project. This matter is far too urgent to allow it to be relegated to a "jobs vs. environment" debate in the local arena. The real question is: could half-a-billion dollars be put to better use for Appalachian transition than subsidizing the already-bloated prison industry?
Yes, rural Appalachia needs a way out of economic dependence on King Coal. And this is not a question to take lightly, especially when what's at stake is the potential loss of an ability to develop other, less hazardous methods of economic transition after a place a forced to live with the stigma of being a prison town.
In our review of the draft environmental analysis we found that, along with the impacts to federally and state protected species, including the eastern hellbender, Kentucky red-backed vole and sharp-shinned hawk, the new prison could subject surrounding communities to the prison's wastewater discharges and likely expose prisoners to contaminated water.
Just two-weeks ago, concerns such as these inspired 93 social justice, environmental and prisoner's rights organizations to send a letter to the EPA urging the agency to include the 2.3 million people incarcerated in the United States in its "Environmental Justice 2020 Action" agenda. The letter illustrated a clear need for the EPA to consider prisoners as a population that faces extreme environmental justice impacts, including incarceration in unsafe facilities like the one proposed for Letcher County, which could be built on a mountaintop-removal coal-mine site.
A final environmental impact statement (EIS) is expected by the end of the summer, according to a statement from the BOP.
Kentucky's leaders need to take a stand to protect forests, waterways and wildlife from this sprawling new prison. Instead of spending half a billion dollars to construct a new facility that will create hazardous conditions for people and destroy wildlife habitat, we need to reform our prison system.
We are hoping Kentucky's state agencies will oppose this project in order to protect the well-being of the public and the environment.
——————————————————–
Panagioti Tsolkas is the prison ecology project coordinator at the Human Rights Defense Center, a non-profit organization dedicated to protecting human rights in U.S. detention facilities. HRDC's Prison Ecology Project has been conducting extensive research, public records requests, interviews and reviews of Environmental Impact Statements and Environmental Assessments to understand how environmental justice criteria has been applied to prisoner populations, and how criminal justice and conservation intersect. The Prison Ecology Project neesd your support! Become a member or make a donation here.