HRDC's Prison Ecology Project files an updated comment on the Bureau of Prisons' final Environmental Impact Statement (EIS) for Letcher County plan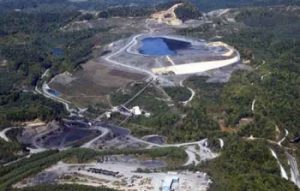 Yesterday, August 31, was the deadline on filing comments against plans for a new federal prison in Eastern Kentucky. And the Bureau of Prisons (BOP) got a taste of what's to come if they continue moving forward with this terrible plan to put a massive prison on a former mountaintop removal site, in an area ringed by the toxic pollution of coal mining and processing.
Read the full comment here, which includes images from coal slurry ponds and mine sites in the area.
Along with the groups who inititally joined us in fighting this EIS back in March, other organizations in the region stepped into the ring, including the Ohio Valley Environmental Coaliton (OVEC) out of West Virginia. Another 625 individuals signed on to a petition expressing support for our position on this proposed prison, with more joining still.
In addition to these comments, the BOP and its prison pushing cronies in Kentucky also woke up yesterday to an Op Ed in the Lexington Herald-Leader calling people to stop this plan, on top of the story in the Earth Island Journal last week which was picked up by blogs and independent news sources all over the country.
Momentum is growing. We invite you to be a part of it.
You can donate to this important work at our Prison Ecology Project crowdfunding campaign, which was just extended and now goes until Sept 13, 2015.