It has been a decade since Martha Wright, a grandmother who led the campaign to reduce prison phone calls, first began the charge to change the prisoner telephone calling system in U.S prisons.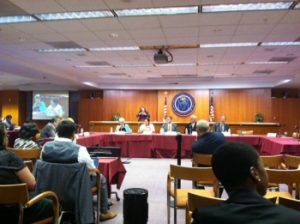 Now, with more support than ever, advocates are asking FCC officials to make the "Wright" decision.
In front of room packed with prison phone-justice supporters, advocates and friends viewing on the web, the case was firmly made: There is definitely a link between lower recidivism rates and keeping families together by phone.  And an essential key to family-prisoner contacts is affordable rates charged by phone service providers contracting with prisons throughout the United States.
With dignitaries and supporters such as The Honorable Bobby Rush from Illinois and U.S. Congresswoman Eleanor Holmes Norton, the momentum for action was felt throughout the room.  Many supporters of change echoed the belief that government is not supposed to be a profit maker, and that the annual kickbacks are outrageous and too painful to heap on the backs of prisoners' loved ones.
Alex Friedman, Associate Director of the Human Rights Defense Center and Managing Editor of Prison Legal News said: "the impact of high telephone rates on the ability of prisoners and their families cannot be understated.  Our research into this issue provides not only statistical data with respect to the cost of prison phone calls and the percentage and dollar amounts of commissions paid by ICS providers, but also offers a window into the real-world hardships that prisoners and their families experience  due to the monopolistic nature of the prison phone industry"
The theme of doing the "Wright" thing was mentioned by every supporter and clearly resonated with many officials in the room. While there were also representatives from the prison phone companies trying to soften the reality that nearly all but eight states average a forty-two percent kickback, that momentum never wavered.
**Please check back with this website to view a future video of the FCC Workshop on reforming inmate Calling Services Rates.