The Campaign for Prison Phone Justice, led by the Human Rights Defense Center, Center for Media Justice, and Nation Inside along with a team of allies, prisoners, and, most importantly, prisoner family members— won a major victory for prison phone justice today!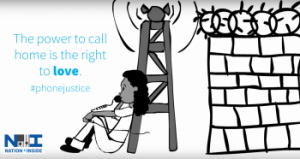 Call our toll-free storyline at
877-410-4863FREE and tell us what you think.  Send a thank you note to the FCC commissoners here.
Today, the Federal Communications Commission voted 3-2  to cap the rates and fees companies charge those families struggling to keep in touch with incarcerated relatives by phone. That change came as a direct result of mounting pressure from groups across the country.
The new cap could represent a 50% drop in prison phone call costs. State and federal prison phone rates will be capped at 11 cents a minute. Jail rates will be capped anywhere from 14 to 22 cents per minute.
Until now, companies have been able to charge callers reaching out to jails and prisons thousands of dollars a year, erecting a billion dollar prison phone industry around a captive market. Prison phone telecoms like Securus Technologies and Global Tel*Link have paid kickbacks to jails and prisons willing to sign contracts with them, incentivizing further abuses.
"Today's vote will never make up for the inactions of the past, but it is my hope that the order will finally bring relief to those that have waited for so long," Commissioner Mignon Clyburn, who's championed the issue over the past several years, said.
Send the FCC Commissioners who voted for this ‪#‎PhoneJustice‬ victory a thank you:http://tinyurl.com/peex45b