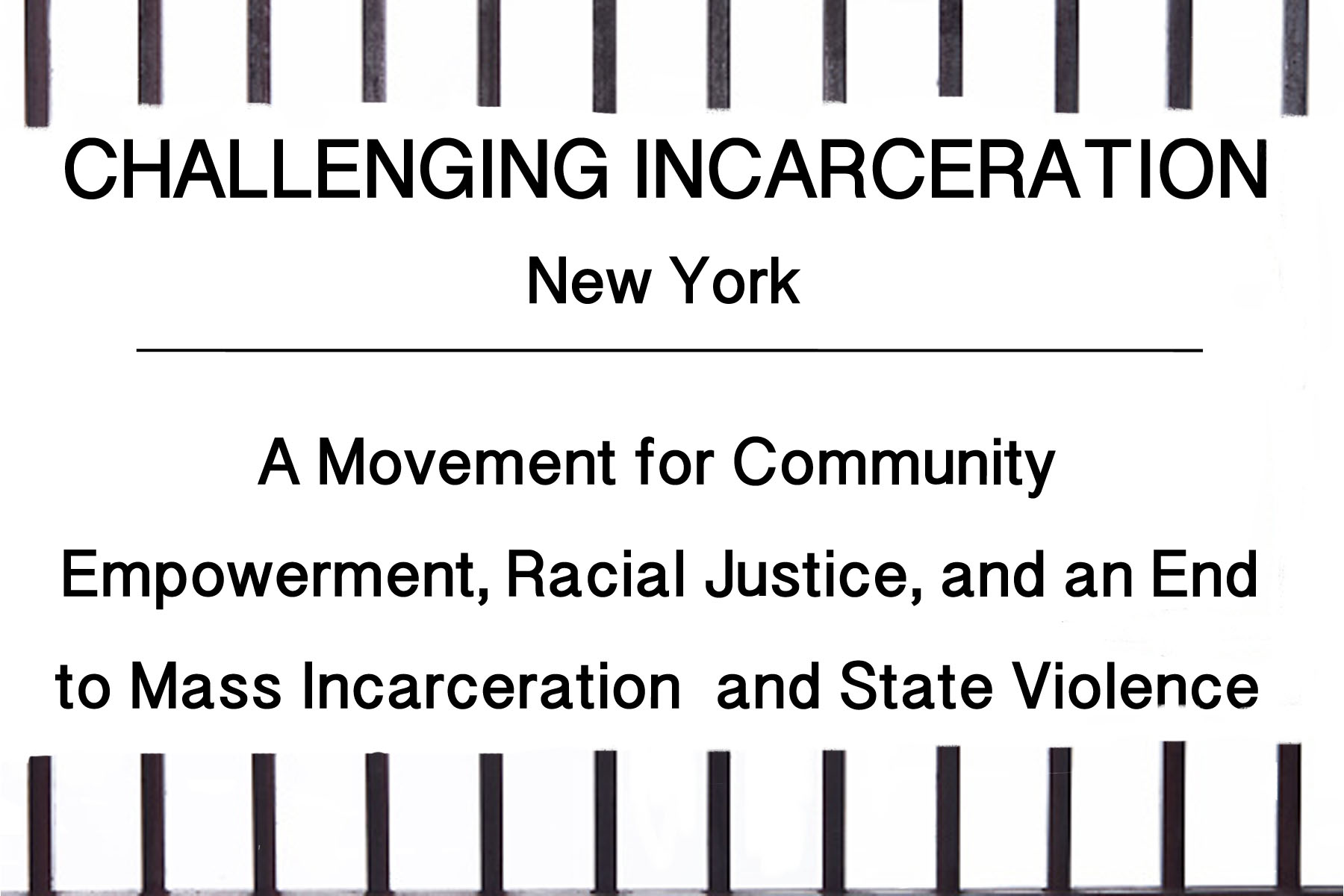 Donate to support the Day of Advocacy on May 10th
Unite for Parole and Prison Justice: A Day of Advocacy and Action:
May 10, 2017 – Legislative Office Building in Albany. This day will include a rally and speak-out event at West Capitol Park, a march through the capitol, and legislative advocacy around Challenging Incarceration's platform (can be found at the bottom of the "Facts" page) with a particular focus on parole reform. Free buses will leave from NYC.
Challenging Incarceration June strategy meeting:
June 17, 2017 – 10:00AM to 4:00 PM. At this meeting, members of the coalition and community will strategize around the future of challenging incarceration, its structure, shared values and leadership.
Connect with us
Facts
2017 Prioritized Platform for Challenging Incarceration in NY
TO ENDORSE THIS PLATFORM AND BECOME PART OF THIS COLLECTIVE, EMAIL: challengingincarceration@gmail.com
We aim to: 1) End mass incarceration; 2) Promote community empowerment, education, reconstruction, and control; 3) End state violence and torture and shift away from the punishment paradigm; and 4) End structural racism, ensure a focus on women, LGBTI people and gender non-conforming people, and protect the human rights of all people.
While we support a fuller platform of policy changes that would be important steps within each of these categories (which can be found at the bottom of this page), this year we call upon New York policy-makers to enact and effectively implement all of the following prioritized measures in 2017:
End mass incarceration
Parole Reform: require the Board to grant release to people who demonstrate their readiness and specify what denied applicants can do to be released, SAFE Parole Act, A. 4053/ S. 3095; and ensure parole decisions are based on risk and rehabilitation, A. 1909.
Raise the Age: raise the age of criminal responsibility from 16 to at least 18 for all children and all crimes, and keep all children out of adult jails and prisons. 
Bail Reform: fundamentally transform the bail/pre-trial detention system to dramatically reduce the number of people in jail, stop jail expansion, end pre-trial detention in almost all cases, end poverty-based detention, and refrain from using risk assessment instruments or other approaches that claim to predict dangerousness and reinforce existing inequalities.
Revamp all sentencing: end life without parole, reduce all prison sentences, stop re-incarceration on technical violations, and expand alternatives to incarceration, diversion, Supervised Injection Facilities, other community resources, and restorative and transformative justice for all people, including people with mental health needs, people who use drugs, and people convicted of the most violent offenses.
Promote Community Empowerment, Education, Reconstruction, and Control:
Voting Rights for All: provide right to vote for all people incarcerated in prisons and jails, and who are on parole.
Tuition Assistance Program (TAP) restoration, A. 2870 / S. 2975: restore eligibility of people who are incarcerated to receive financial aid to attend college.
End State Violence and Torture, and Shift Away from the Punishment Paradigm:
HALT Solitary Confinement Act, A. 3080 / S. 3824: end the torture of solitary confinement for all people and create more humane and effective alternatives.
Close Rikers and Attica: close this abusive jail and prison immediately and permanently, and stop systemic brutality, racism, and abuse in all jails and prisons.
End Structural Racism, Ensure a Focus on Women and LGBTI people, and Protect the Human Rights of All People –including Groups Disproportionately Harmed by the Punishment System:
Racial Justice: establish Truth, Justice, and Reconciliation Commission, and reparations, for the harms of mass incarceration, policing, segregation, and slavery; and utilize racial and ethnic impact statements to prohibit any justice policy that would exacerbate racial disparities.
Domestic Violence Survivors Justice Act (DVSJA), A. 3110 / S. 3340: grant judges discretion to sentence domestic violence survivors convicted of offenses caused by that violence to shorter sentences or to alternative-to-incarceration programs instead of prison.
Policy Papers and Documents
Prioritized 2017 Platform for Challenging Incarceration
Comprehensive Platform for Challenging Incarceration in New York