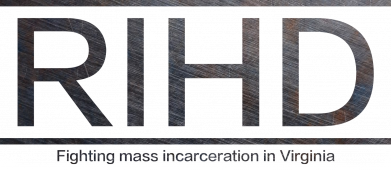 Fighting to reverse the trend of mass incarceration and correcting sentencing bias and injustices that remain uncorrected in Virginia." -- Lillie Branch-Kennedy, Founder/Executive Director Resource Information Help for the Disadvantaged & Disenfranchised (RIHD)
Connect with us
About Us
Fighting for Virginia families.
Our Mission
Resource Information Help for the Disadvantaged (RIHD, Inc.) is an all-volunteer,  nonpartisan, statewide, membership organization "working to end the trend of Mass Incarceration" in Virginia.
Fueled by ordinary citizens, college students, and church groups across the state requesting The "Mobile Justice Tour" to visit and re-visit communities with awareness/updates focusing on three key justice-related issues: helping as many of the 400,000 lifetime disenfranchised citizens with felony convictions to restore their civil and voting rights, advocating under the umbrella of state-wide and state level "Ban the Box" to remove questions about an applicant's criminal background from initial employment forms, and bringing awareness to the need for sentencing reform and end mass incarceration in Virginia.
Previous Mobile Justice Tours " were so successful, inspiring everyday Virginians to reach out to us and proactively invite us to bring the tour and our information and resources to their communities," said Lillie Branch-Kennedy, RIHD Founder and Executive Director, who is also the tour founder and co-moderator.
At each stop of the tour, members of the coalition will discuss and share the following information with the public:
Proposed legislation and activities to help end mass incarceration in Virginia
Virginia's discriminatory sentencing practices and sentencing disparity that is resulting in mass incarceration of African Americans, people of color, and the poor
Restoring justice to Virginians sentenced to prison from the year 1995 through 2000 under a system of jury trial that the Virginia Supreme Court described as unfair in the case of Fishback v. Commonwealth.
"Ban-the-Box" Campaign to promote passage of laws statewide that will remove inquiries into the criminal background of a job applicant from the initial employment application and defer the inquiries until the interview process.
Support for a robust prison reentry program that will ensure adequate rehabilitation of offenders who are scheduled to return to our communities.
Restoration of civil and voting rights for Virginians with felony conviction records (Members of the coalition will provide on-site direct assistance to those citizens who wish to restore their rights.)
For too long Virginia has been negatively impacted by a harsh criminal justice system that fail our communities. We cannot be scared away from having the tough discussions and doing the heavy lifting required to change how we govern ourselves. We ask you to join us in our effort!  STAY INFORMED – STAY PROACTIVE – VOLUNTEER TODAY!  CLICK ON  "GET INVOLVED"
Web:  www.rihd.org   Updates:  InMateResource@yahoogroups.org  Email:  rihd23075@aol.com
Mail:Â  RIHDÂ  – PO BOX 55 – HIGHLAND SPRINGS – VA 23075Â Â Phone/Text: Â (804) 426-4426