Volunteer groups to assist ex-felons with restoration of the rights on Friday, May 9 at Richmond Coliseum 6th & Board. Share information and invite everyone to attend.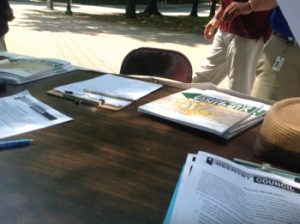 ~~NEWS RELEASE
For Immediate Release:                                  For More Information:
April 25, 2014                                                    Richard Walker
CEO & Founder Bridging the Gap
804-248-6756
RIGHTS RESTORED FOR RETURNING CITIZENS
Rally set to help ex-felony offenders reinstate their rights
RICHMOND, VA- On Friday, May 9, 2014 from 11am to 2pm, Bridging the Gap
in Virginia, a statewide advocacy and support group for ex-offenders, will host a
Rights Restoration Rally at Festival Park behind the Richmond Coliseum at 6th
and Marshall Street.  The rally will celebrate the Governor's recent announcement as it encourages individuals to "apply right now" to have their rights reinstated.  Volunteers and officials will be on-hand to help individuals process necessary paperwork.
Effective April 21, 2014, a series of changes issued by Governor Terry McAuliffe to the state's restoration of rights process made it possible for thousands of ex-offenders to have their rights restored.  Some drug-related offenses have been removed the list of violent offenses and the waiting period for violent offenses has been reduced from five to three years.    Advocacy groups across the state are singing the praises of Governor McAuliffe who they say has "raised the bar".   Last year former Governor Bob McDonnell altered the process to automatically restore rights on an individualized basis once nonviolent felons served their time, paid fines and restitution and met other court-ordered conditions.  Governor McAuliffe's ruling has now made that process more expedient and transparent and allows thousands more to vote, hold public office, serve on a jury and serve as a notary public sooner rather than later.
"We're looking forward to the day when there will be automatic restoration for all, but until then we will work diligently to ensure that the new streamlined process reaches the entire Commonwealth of Virginia", says Richard Walker, executive director of Bridging the Gap in Virginia.  "This history-making decision by Governor McAuliffe will allow hundreds of thousands of individuals who have been disenfranchised to stop being punished and to more fully exercise their constitutional rights.  It is incumbent upon us to reach out to citizens across the Commonwealth and enable them to fully exercise their rights of citizenship in these United States."
As part of the rally, the office of the Richmond City Clerk of Courts will assist individuals in obtaining copies of receipts of paid court costs, fines to the Commonwealth, and restitution to victims. Representatives from the state's District 1 Probation and Parole office will also be on-hand to issue proof of completed supervision, satisfaction of all court-ordered conditions, and proof of no pending felony charges.  Volunteers from the Resource Information Help for the Disadvantaged (RIHD),Virginia CURE, God's Intervention Ministry, and Virginia Organizing will assist Bridging the Gap. The stakeholder groups will also be joined by Scott O. Bailey, Melvin L. Todd and Edward F. Jewett, contenders for the Richmond City Clerk of Courts democratic primary to be held on June 10, 2014. The candidates will assist with notarizing former violent offenders' applications to be submitted to the Secretary of the Commonwealth's Office. ##
Lillie Branch-Kennedy
Executive Director
Resource Information Help for the Disadvantaged
PO Box 55 – Highland Springs – Virginia 23075
Telephone  804.426.4426
Email:  rihd23075@aol.com  Web site:  www.rihd.org