FREE PUBLIC EVENTS: Providing Justice-Related Awareness & On-site Direct Services: 'ÄĘ Sentencing reform to end mass incarceration in Virginia 'ÄĘ Restoration of Civil & Voting Rights Application/Filing Assistance 'ÄĘ Ban-the-Box Fairer Employment Application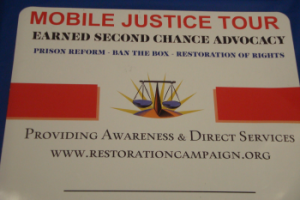 The "NATION INSIDE"¬† Home of the¬† 'ÄúCOMMUNITY RESTORATION CAMPAIGN'ÄĚ
Presents the "MOBILE JUSTICE TOUR"
MJT Web site:  www.RestorationCampaign.org
MASS INCARCERATION 
-Vs- Successful Re-entry
What's working, what's not?
Thoughts of the incarcerated:¬† 'ÄúSomeday the gates will open, and once more I'll be free. Have I a future awaiting me?¬† Will I be accepted by others, or forced to walk alone?'ÄĚ – Luis Verduzco,
Providing Justice-Related Awareness & On-site Direct Services: 1) Sentence Reforms to end mass incarceration,                2) Restoration of Rights, 3) Ban-the-box fairer employment application reform.
FEBRUARY, 2014
Thursday, February, 20
4:30pm to 7:30pm
First Baptist Church-Gainsboro
310 North Jefferson Street
Roanoke, Virginia 24016
Saturday, February 22
3pm to 5pm
Lynchburg Public Library, MLK, Jr.
2315 Memorial Ave,
Lynchburg, Virginia 24501
Wednesday February 26
5pm to 8pm
William R. McKinney Library,
137 S. Sycamore Street
Petersburg, Virginia 23803
Thursday, February 27
3pm to 6pm
Ellen Coolridge Burke Library,
4701 Seminary Road
Alexandria, VA 22304
MARCH, 2014
Thursday, March 13
6pm to 8pm
Central Rappahannock Regional Library
1201 Caroline Street
Fredericksburg, Virginia 22401
Tuesday, March 18
7pm to 9pm
Wesley Memorial United Methodist Church
1720 Mechanicsville Turnpike
Richmond, Virginia 23223
MJT Moderators:
Telephone/Text:  804.426.4426
Lillie (Ms. K) Branch-Kennedy/ Email:  rihd23075@aol.com
Richard Walker/ ·Email: rwalker@bridgingthegapinvirginia.org
Virginia Organizing (Local Chapters)
MJT is an all-volunteer initiative, free, open to the public depending solely upon private donations.
We appreciate all donations, no matter how modest.  Donations $25 or more to RIHD/MJT are tax-deductible to you per
IRS 501(c) 3 rules and regulations.  Make payable & mail to:  RIHD/MJT РPO Box 55 -Highland Springs, VA 23075.
Telephone: 804.426.4426  Email:  rihd23075@aol.com   ###