THE ARMSTRONG HIGH SCHOOL CHOIR CAN ONLY SING AT CARNEGIE HALL MAR 1-4 IF THE COMMUNITY RALLIES AND HELPS THEM GET THERE. YOUR HELP IS NEEDED!!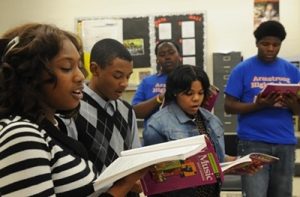 THE ARMSTRONG HIGH SCHOOL CHOIR CAN ONLY SING AT CARNEGIE HALL MAR 1-4 IF THE COMMUNITY RALLIES AND HELPS THEM GET THERE. YOUR HELP IS NEEDED!!
I received this email today from a friend who is a major contributor to the Restorative Youth Services of Virginia's conflict resolution program at Armstrong High School in Richmond, Virginia:
THE ARMSTRONG HIGH SCHOOL CHOIR CAN ONLY SING AT CARNEGIE HALL MAR 1-4 IF THE COMMUNITY RALLIES AND HELPS THEM GET THERE. YOUR HELP IS NEEDED!!

My continuing work at Armstrong High School where I am helping to implement a Restorative Justice Program, has made me acutely aware of something that needs our collective attention.
Last year the Armstrong High School choir sang in a competition at Riverside Church in New York City. These students did such an outstanding job that they came home with two golds, two silvers and an invitation to sing at the premier high school choir event in the nation, the high school choir festival at Carnegie Hall to be held March 1-4. The choir is directed by a young, devoted musician, William Griffin, who is able to bring out the very best in these students.
Last year they were able to make that trip because an article in the Richmond Times Dispatch made a plea for donations and the community contributed $26,000 for the trip.

This year it has been a much harder road, even though the goal is now Carnegie Hall.
The Richmond Times Dispatch would not do another article on them, saying it was not news, and the article in Style this week led some people to think they have missed the opportunity all together.

But they can still be a part of the group choir that sings at Carnegie, but only if the community comes together and helps them get there. They have received the music they will be singing at Carnegie and they are working on it, still trusting that somehow it will happen.
Please write a generous check to the Richmond Education Foundation (it will be tax-deductible), note "Armstrong Choir" in the memo, and send it to Armstrong High School at 2300 Cool Lane, Richmond, 23223, asap. Time is of the essence if they are to make this trip.

They need our help because the many fund raising efforts they have put forth, selling candy, selling grapefruit and lap robes, singing at various stores who give a small part of the purchases made, and singing for many, many groups, have not raised the amount needed. They are still far from the $30,000 they need to raise for the 25 students who are eligible to make this once-in-a-lifetime trip.

Thank you.
Sylvia
–
Program Coordinator
Restorative Youth Services of Virginia
Of course, I am extremely supportive of making this trip happen for these dedicated young people.  After all, that is our main goal.  However, I have to wonder about the implications here of how this socio economic discrimination is impacting our youth and helping to contribute to the inequalities within our judicial system.
When I was in high school (oh so many years ago), most of us in the choir or thespian group were able to afford to travel to local, regional, state, and even national competitions.  For us, it was relatively simple to have our parents and family cover the costs to compete.  And, if we were fortunate enough to have a win under our belts, like these students who have achieved Gold in the previous year, we would have easily been able to raise the funds from our community to continue competing and performing – all the while adding embellishments for our college applications and resumes.
At Armstrong High School, things are not that simple.
Based on the socio economic status of the students, their families, and the entire community, they don't just get to expect that they will continue to be able to compete based on their hard work, dedication, talent, and proven success.  They must face an economic barrier that is constantly looming.
So, how does this effect these amazing and steadfast youth?  Isn't this just another barrier to their achievements?  Should we recognize that they will have to work several times harder to make the same college admission requirements as the rest of us?  (After all, these are the things that distinguish a college application.)  What does this mean in each of their lives?  How does this impact their communities as a whole?  Is this one of those factors that contributes to our growing criminal justice system?  Would funds be better spent on encouraging the growth and success of these students rather than increasing prison budgets?
For now, I will leave these questions open…
LET'S JUST GET THESE KIDS BACK TO CARNEGIE HALL!!!!