The Miami Herald: Inmates at Va women's prison sue over health care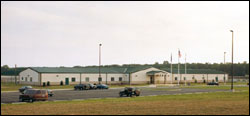 The Miami Herald: Inmates at Va women's prison sue over health care
The Miami Herald
Posted on Tuesday, 07.24.12
Inmates at Va women's prison sue over health care
By LARRY O'DELL
Associated Press
RICHMOND, Va. — Medical care at a Virginia women's prison is so deficient that it violates the U.S. Constitution's ban on cruel and unusual punishment, five inmates claim in a lawsuit filed Tuesday.
The prisoners filed the complaint in U.S. District Court in Charlottesville against several prison officials and Armor Correctional Health Services Inc. The Miami-based company has a contract with the Virginia Department of Corrections to provide medical care at Fluvanna Correctional Center for Women.
The lawsuit alleges that prisoners suffer prolonged pain and deterioration of their health, and that some inmates have died because Armor makes more money by denying inmates the care they need.
"The human tragedy is almost all the pain and suffering could have been prevented," said attorney Abigail Turner of the Legal Aid Justice Center, which filed the lawsuit on behalf of the inmates. "The suffering stems directly from the policies and practices of a for profit corporation that puts profits over people."
Officials at the Virginia attorney general's office have not seen the lawsuit and would not comment on potential litigation, spokesman Brian Gottstein said.
Armor referred questions to Department of Corrections spokesman Larry Traylor, who said many offenders arrive in the prison system with long-neglected health problems.
"Once health care is made available to them, they often want immediate cures, despite their years of self-neglect," Traylor said. "If a doctor or doctors feel a procedure is necessary to preserve life, reduce deterioration of health and to follow a community standard of care, we will provide it."
The plaintiffs are Cynthia B. Scott, 42; Bobinette D. Fearce, 60; Patricia Knight, 55; Marguerite Richardson, 56; and Rebecca Scott, 29. They are among the approximately 1,200 inmates at the women's prison in Troy, which includes a 68,000-square-foot medical building that also serves prisoners from other Virginia lockups who need a heightened level of medical care.
According to the complaint, the plaintiffs have suffered a litany of illnesses and maladies that have not been properly treated, including blood clots, unexplained weight loss, mysterious growths, hepatitis C, staph infections, degenerative disc disease and incontinence.
The inmates claim the problems start with a "sick call" procedure in which unqualified licensed practical nurses and certified nursing assistants decide how a medical complaint will be handled. Prisoners who are prescribed medication often must endure harsh weather conditions to wait in an outdoor "pill line" for hours, only to be told when they reach the front of the line that the drugs are not available, the lawsuit says.
The complaint says medical staff members have failed to devote sufficient time, provide necessary referrals to outside providers, prescribe effective medication, or carry out specialists' orders – all to save money. Prisoners suffering incontinence have been denied more lenient restroom privileges based on unexplained security concerns, the lawsuit says.
According to the plaintiffs, deficient health care contributed to the deaths of at least two inmates: Darlene White, a diabetic who died in the infirmary in December 2011 after complaining of severe headache and nausea, and Jeanna Wright, whose complaints of severe stomach pain and bleeding were dismissed by prison doctors until she was finally diagnosed by an outside physician as having abdominal cancer.
"The fate encountered by prisoners Darlene White and Jeanna Wright … almost certainly awaits additional FCCW prisoners if corrective action is not undertaken promptly to remedy the clear deficiencies in the nature and extent of the medical care the facility provides," the lawsuit says.
The plaintiffs are asking the court to certify the lawsuit as a class action. They also are seeking an order prohibiting deficient health care practices.
Read more here:Â http://www.miamiherald.com/2012/07/24/2910058/inmates-at-va-womens-prison-sue.html
http://www.miamiherald.com/2012/07/24/2910058/inmates-at-va-womens-prison-sue.html