Propose a Track for Free Movement 2018!
Free Movement is a Southern powered laboratory for creativity, freedom, and organizing taking place March 23-25th, 2018 in Wilmington, North Carolina.
Are you engaging in policy fights and looking for creative interventions? Are you fighting to end mass incarceration? Do you imagine a media that serves the public interest? Are you a Southern-based media producer? Are you organizing for racial justice? Do you want to build a youth media movement? Is environmental racism impacting your community? Do you believe in the power of the arts to transform communities? If so, your work is a good fit for the Free Movement Conference and we hope you'll propose a track.
The deadline for track submission is October 31st. Learn more here.
What is a track? Each track is a series of sessions or workshops (a single track can encompass up to six separate workshops or sessions occurring over the length of the conference) built around a particular theme or idea. You can propose a track without having to program it in its entirety. In fact, the goal is to have track leaders program their tracks in collaboration.
Background:
Held in Wilmington, North Carolina at the Hannah Block Community Arts Center the Free Movement Conference brings together Southern organizers, artists, and activists to build a community for change.
Last year, over 500 community activists and artists participated in Free Movement. We are excited to continue to grow with you and are doubling the number of workshops offered this year.
Free Movement recognizes that southern communities often don't have the space or time to work together and share. We believe that building a culture of justice together takes creative risk taking and careful organizing.
If you are excited and ready to propose a track click the link to submit your proposal.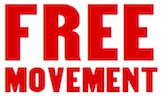 Free Movement is a project of the arts and social justice organization Working Narratives.