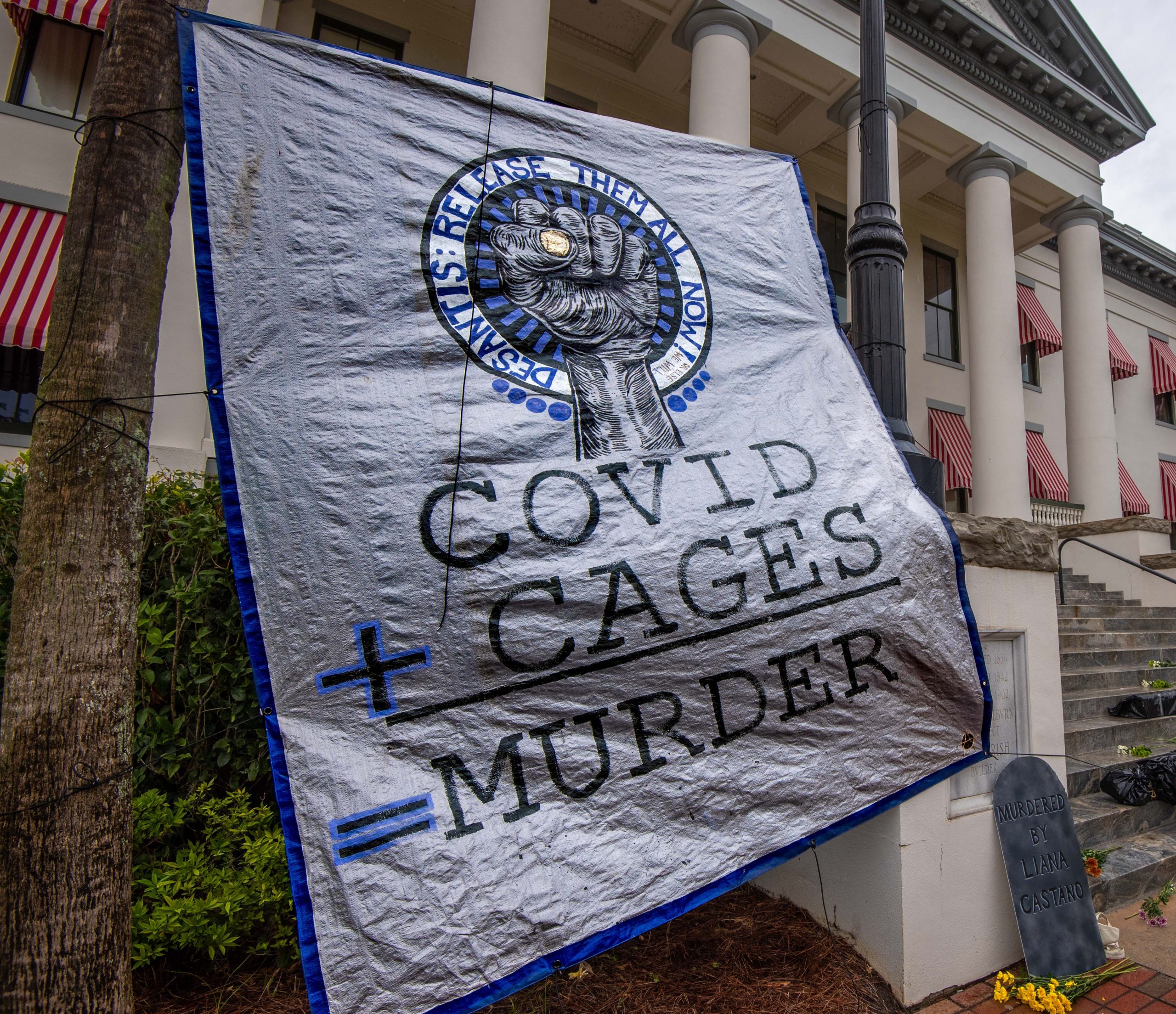 While the world is trying to flatten the curve of a pandemic without end in sight, U.S. prisons and detention centers continue to be COVID-19 hotspots, warehousing millions and failing to make the substantial populations reductions needed to create conditions of social distance.

#CagingCOVID is a campaign to shine a light on mass incarceration in a time of a public health crisis, and apply pressure to use parole, clemency and decarceration at local and federal levels to stop the spread of the virus behind bars.
Use this form to report Covid related conditions inside
Call our 24 hour hotline to tell us your story about Covid-19 and incarceration at 910-604-6519
About Us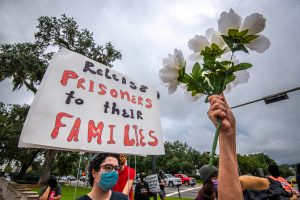 #CagingCOVID is an effort led by the Nation Inside team, in partnership with the incarcerated and their families on the outside. We seek to empower the affected by providing a platform where they can share their stories with the world, thereby raising awareness about the cruelty and neglect suffered by those cut off within correctional facilities across the nation.
It can become a little too easy to forget those locked away, "out of sight and out of mind." But we can't allow ourselves to forget them — lives are on the line. We hope that by bringing those voices to the forefront of public awareness, we can remind people of their needs and make the changes necessary to protect the vulnerable among us.
Join the Campaign today and lend your support.
Endorsing the campaign
The following organizations, churches, law firms, media outlets, schools and businesses are standing with the #CagingCOVID goal of immediate mass clemency
(Search these groups by name to find out how to get involved with them.)
Abolitionist Law Center
Amistad Law Project
Another Gulf is Possible
Antistasis Project
Autonomous Actions Against Prisons, Seattle
Chainless Change, Inc
Change Comes Now!
Charlotte Uprising
Civil Liberties Defense Center
Coalition Against Prison Slavery

Coalition for Prisoners' Rights (Santa Fe, NM)

Cooperation Humboldt
Covenant Fellowship Of Churches International-Prison Reform
COVID-19 Hotline for Incarcerated People, South FL
Cultural Arts Coalition (Gainesville, FL)
CURE National
DC Teens Action
Denton Bail Fund (TX)
Department of Sociology at Humboldt State University
Emily Posner, Attorney at Law, LLC
End Solitary Santa Cruz County
Environmental Justice Initiative (NYC)
Everglades Earth First!
The FANG Collective
Fight Toxic Prisons
Fla Hip Hop Radio
Florida Council of Incarcerated and Formerly Incarcerated Women and Girls
Florida Immigrant Coalition
Florida Legal Services
Florida Prisoner Solidarity
Food Not Bombs Gainesville
Free Alabama Movement
Gainesville-Area Action for Environmental Justice
George Jackson University
Global Environmental Justice Project
Greenpeace USA
Human Rights Coalition-FedUp! (PA)
Human Rights Defense Center (Prison Legal News)
Immigrant Action Alliance
Incarcerated Workers Organizing Committee (IWOC)
Interfaith Action for Human Rights
International Worshipers of Christ
Jailhouse Lawyers Initiative
Jailhouse Lawyers Speak
Just Future Project
Lake Worth Food Not Bombs
Legal Empowerment and Advocacy Hub (LEAH)
Michael's Way Inc. (Ohio)
Mobilization4Mumia
Movement Media (DC)
Mutual Aid Disaster Relief
NAACP Environmental and Climate Justice Committee (Gainesville, FL)
National Lawyers Guild
Nation Outside (MI)
Nation Inside
Nevada CURE
Nola Investigates
Oregon CURE
Orleans Parish Prison Reform Coalition
Palm Beach County Environmental Coalition
Power Shift
Prison Ecology Project
Prison Health News
Prison Policy Initiative
Prisoner Safety Net
Prisoners Solidarity Committee of Workers World Party
Real Cost of Prisons Project
Resource Information Help for the Disadvantaged & Disenfranchised (RIHD)
Rising Tide North America
Roanoke Jail Solidarity
Roanoke Peoples Power Network
Sabal Trail Resistance
Supporting Prisoners And Real Change (SPARC)
SPN Law Firm, LLC
Torchlighters Re-Entry Support
Working Narratives
Worth Rises