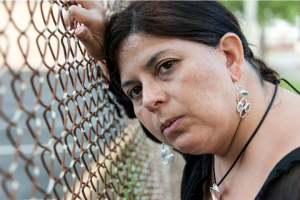 Audio Submission By, Renee Dagley About Ricardo Peña III
Amended Audio Transcription
My fiance, he's been incarcerated 12 years on a 30 year sentence. He's a Coffield Unit in Tennessee Colony, Texas, and they're not doing anything for the covid. They're not social distancing. For shower-time, they've got three hundred men in a shower at one time. No social distancing. They do not make them wear masks. They wipe down the phones, but that's about it.
He's miserable. My baby has been tested twice. The first time, he was positive. They pretty much just put him in isolation. That was it. They're not giving them fruits and vegetables or very rarely.
It was miserable. He couldn't call me. He was in isolation and pretty much in a cell with the celly. So it wasn't really isolation. And they put him back with other people that tested positive. So it doesn't do anything.
He wanted me to file a complaint, but I don't know how to do any of that. He sounds really depressed. He cries. I could hear his tone. He's been waiting six months minimum to get new shoes. They don't care about the prisoners. If they get sick, they don't care.
And it hurts. Because he tells me what's going on there, and there's nothing I can do. Please take this covid seriously and please help these men.